Hosted Desktop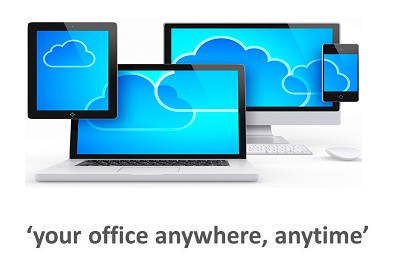 A hosted desktop is a Virtualization technique that provides a local desktop instance remotely from a server through the Internet. It could be an exact replica of the desktop that you use on your office desk, home office or mobile device.
It hosts the operating system, applications, and data that would normally sit on a physical desktop, but can be accessed from wherever you are.
CMA can host and fully manage your business critical desktops, eliminating the need to install local windows software and applications on physical desktops PCs or laptops. Users can access their assigned virtual desktop in the cloud from any supported device including windows and mac computer, laptops, iPads and tablets.
The benefits of hosted desktops

Work from anywhere at any time
It allows access to all items / applications on your PC, including mapped drives – rather than just e-mail or documents held in Sharepoint.
It provides the full and latest versions of Microsoft Office applications (Word, Excel, Outlook, Publisher, PowerPoint), rather than just the online versions.
Pay as you go
Increase data security
Increase business mobility
Secure and standardized desktop platform