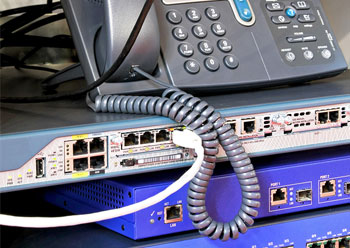 Easy phone systems management

VoIP systems provides exceptional call management features such as automated attendant, find me follow me call forwarding, call waiting, call conferencing, voicemail to email delivery, fax mail and more.
The automated attendant functions as a receptionist and receives all calls with proficiently recorded welcome messages. Calls are transferred to the correct extension lines according to the callers preference Easy routing of calls to alternate numbers.
Easy routing of calls to alternate numbers

Through the efficient call routing function find me follow me call forwarding, business calls can be transferred to the various extension phone numbers including home and cell numbers. This means that you can administer your business from far-off locations. The system redirects the callers to the voicemail system and enables them to leave voice messages, when the calls are not answered in any of the alternate numbers. The voicemail system completely eliminates the possibility of missed calls and imparts a flourishing image to your organization.
Improve productivity, control cost and provide superior customer service

Streamlining the communication paths with customers and employees. Unified Communications gives you the ability to get more done while being ever-present to those who need you most.
The power of unified communications

Unified Communications empowers organizations to get more done by improving response times, directing communications to the correct resources and extending the reach and availability of your staff well beyond the borders of their offices. By fully leveraging the power of a robust IP network, your investment in technology will become an advantage to your operations rather than an unplanned and undesirable expense against your bottom line.