Voice & Data cabling management from start to finish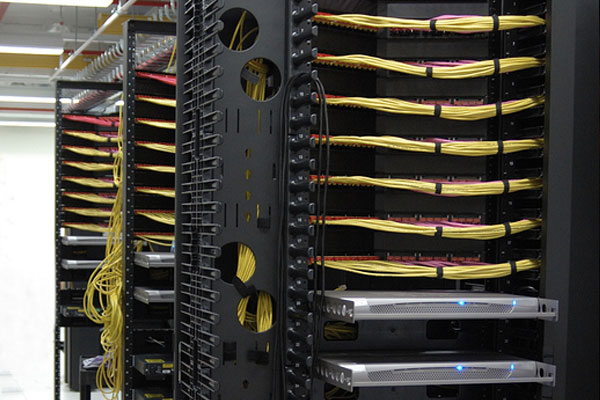 A data center where each row of servers has a KVM server control system mounted at the end of each row. We provide high quality network cable installations for your business. Whether is a small data addition or a new voice and data cabling infrastructure, our professional cable engineers and technicians have the knowledge and experience to assure every cabling installation is done safely and inexpensive as possible.
Every installation is completed with full test documentation for Category 5e/6. A floor plan with outlet layout and numbering systems will be provided to ensure that additions and alterations can be carried out effectively.
CMA enables customers of all sizes to integrate all their IT and communications systems thus offering a more cost effective and manageable system, with one point of contact for all cabling design, cabling installation, cable testing & certification and communications requirements.
We take pride in what we do and are committed to providing the highest level of service.

We realize that customer satisfaction is essential for developing repeat business and "word of mouth" referrals, that's why our continued commitment in high quality installations allows us attaining a superior level of customer satisfaction.
Wiring Services Include

Information Technology Security Solutions
Twisted pair cabling – Cat 5e & Cat6/6e
Cable testing analysis and certification
Fiber Optics – Multi mode and single mode
Abandone cable removal
Data racks, cabinets & ladder racking
Point on entry extensions – T1, analog lines, coax, fiber, DSL, etc.
Security Cameras / wiress access points
Corporate relocation