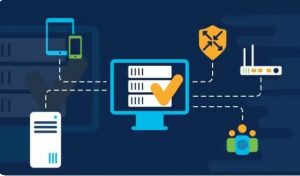 Network & Management

Looking to enhance your communication speed, boost productivity, and maximize security? Our tailored network management solutions are here to cater to your specific needs.
In today's network management landscape, one of the biggest challenges lies in proactively identifying potential issues before they impact your end-users. But fret not, as we fully grasp the significance of supporting diverse hybrid network environments. With our Network Managed Services and automation expertise, you can effectively manage, monitor, and optimize your entire network.
Rest assured that our team of top-notch engineers utilizes industry-leading processes and automated alerts to ensure the smooth operation of your network. With our extensive experience in end-to-end hybrid infrastructure management, we've got you covered every step of the way.
CMA & Network Management Services

Many businesses aspire to improve their enterprise, but progress can be hindered by outdated technology. In today's world, sporadic IT services and temporary solutions may fall short. That's where we come in – offering practical solutions to propel your business forward.
At CMA, we provide secure and comprehensive IT solutions tailored to your needs. Our managed IT services cover a wide range of areas, including network administration, computer assistance, business VoIP, dedicated IT support, vulnerability management, and cybersecurity services. All of this is available for a predictable monthly rate.
Our solutions are designed to be available 24/7, ensuring your company always has access to cutting-edge technology. We proactively monitor threats, adapt to industry trends, and optimize your IT infrastructure. With our technical expertise, we can supplement your staff and provide seamless and secure user experiences, delivering long-term value for your business.
Whether your network is on-site, in a colocation facility, in the cloud, or a combination of these, our services offer round-the-clock monitoring and management. We follow the ITIL framework to provide comprehensive solutions for network management.
Choose CMA for reliable and efficient IT solutions that drive your business forward.
Firewall Management
Switching & Router Management
IPS/IDS
SDWAN
VPN Management
Wireless Management
Incident, Problem, Change, Configuration Management
Patching Services
Asset Management
Availability Management